Dutch horticultural sector 'florafies' road works
30 August 2023
Unique flower-picking gardens in Amsterdam
Afbeelding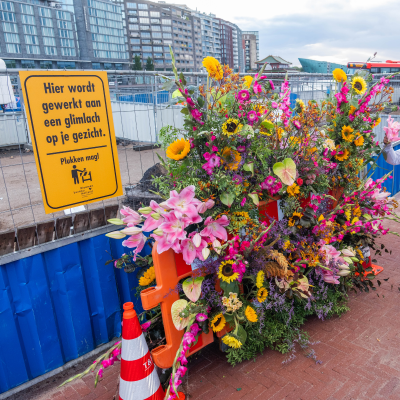 On Thursday, 31 August, residents of Amsterdam got to enjoy unique flower-picking gardens at four locations in the city. The flower-picking gardens are floral artworks that are affixed to roadblocks, and were created to literally 'florafy' the road works. The Flower Council of Holland is also appealing to city residents and visitors to pick flowers from the works of art, which will turn road construction sites into flower-picking gardens and, unlike the road works, create floral harmony in the city.
From construction site to art
Road works are being carried out at various locations in Amsterdam during the summer months. These dug-up streets cause considerable inconvenience and irritation among residents and visitors to the city. Not to mention that they are anything but attractive. Reason enough for the Dutch horticultural sector to swing into action. Not only do the works of art make the city more beautiful for a while, they also create a place for people to come together.
Monique Kemperman, campaign manager at the Flower Council of Holland, explains, "Lately, there have been a lot of complaints about the road works in Amsterdam. This necessary maintenance is an eyesore for Amsterdam residents and visitors alike. That is why we decided to brighten up Amsterdam on behalf of the Dutch horticultural sector. Because, after all, flowers make life more beautiful and enjoyable. The eye-catching floral artworks bring a smile to the faces of passers-by and bring people together to pick flowers."