Presenting: Fill the distance with beauty campaign
13 August 2020
Download all campaign material now to use on your own channels. See below links for all assets.

Until a Covid-19 vaccine is developed, we will need to keep complying with social distancing rules. But rather than letting it divide us, we are encouraging people to fill this distance with beauty. We have developed a brand new flower and plant campaign for this in close collaboration with the sector.
Afbeelding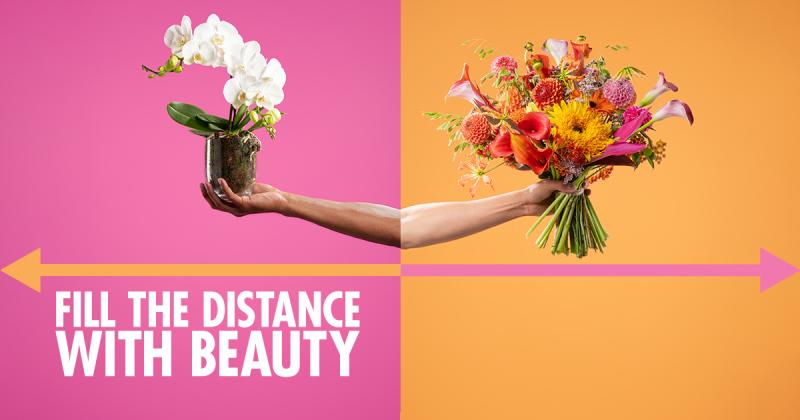 Fill the distance with beauty
This new international campaign - that we will be communicating via the consumer brands Funnyhowflowersdothat.co.uk and Thejoyofplants.co.uk - positions the distance as something that can actually bring us closer together. We are encouraging people to view the gap between us as a space in which beautiful things can bloom. We want to encourage consumers to fill the emotional gap between loved ones with beauty by gifting flowers and plants, and thereby inspire one another to make the world more beautiful during these challenging times.
Campaign Assets
All posters, images and video-animations are now available to use in your own social media and sales channels. 
The campaign features a variety of seasonal flowers and plants to create beautiful visual materials.
Join us now, download all assets via the links below and use the hashtags #FillTheDistance and #FillTheDistanceWithBeauty to boost the message and encourage people to fill the physical and emotional distance with the beauty of flowers and plants.

You can download and print your own posters, animations and images via the links below:
A1 Poster, FTD Fall bouquet + phalaenopsis
A3 Poster, FTD, Freesia bouquet + Bromelia
A3 Poster, FTD, Citrus tree + Lisianthus bouquet
Online images, FTD, (ZIP-file, low resolution)
Video downloadlink, FTD, (ZIP-file with animations for Facebook, Instagram, YouTube)
Media
This large-scale consumer campaign will be launched in the Netherlands, France and the United Kingdom on 7 September. The launch in Germany will take place on 21 September. Our media strategy consists of four pillars:
(DOOH) Digital Out Of Home: this campaign will appear on digital outdoor advertising displays in medium and large-sized cities in the four core countries. The locations are being selected to achieve maximum reach, and have been adapted to consumers' current travel patterns to mainly outdoor locations. UK Digital billboard locations will be in London, Manchester and Birmingham.
Online: we will create extensive reach with our eye-catching campaign images through homepage takeovers. Consumers will be able to click through on these messages to our consumer websites Funnyhowflowersdothat.co.uk and Thejoyofplants.co.uk (and the sister platforms in the core countries).
Social media and content: the campaign will be the subject of targeted pushing via our own channels Funnyhowflowersdothat.co.uk and Thejoyofplants.co.uk, and the sister sites in Germany, France and the Netherlands to achieve maximum visibility. We have created great content articles and posts with which we will inspire consumers to buy flowers and plants.
Influencers: influencers will be used in the four core countries to create attention-grabbing content that fits with the campaign theme and will be distributed through their own channels.
Extra reach in Germany
In order to reach even more consumers, we will be collaborating with '1000 gute Gründe' (Landgard) in Germany for this special campaign, who will use their channels to create visibility for this campaign.
PR
In the Netherlands we will be running a very special and covid-secure PR event for consumers, influencers and journalists that we believe will attract a lot of press and social media attention.
Competition
​In the Netherlands we are also organising a competition in collaboration with Dutch Florist organisation VBW. Florists will give away postcards with all the images from the campaign. These will feature a unique prize code, with which the consumer could win a bouquet or plant worth 30 euro. Fleurop is organising an attractive competition in Germany.
Promotional pack​s
A range of point-of-sale material will be distributed in Germany, France, the United Kingdom and the Netherlands in collaboration with paying partners such as VBW, Waterdrinker, Landgard and Fleurop. Posters, postcards, floor stickers, and a special bouquet ribbon will be available in most markets (not the UK). This will give this sales-oriented campaign an extra boost through visibility in the sales channels.
UK Posters
Posters will exclusively be available at the following Cash & Carrys and flower market from Thursday 10 September 2020*:
New Covent Garden Flower Market: Collection from the Garden Café
The Flower Bank, Carlisle 
Marilliam, Units 1-5 Wholesale Market, Huddersfield
Tom Brown Wholesale Florists Ltd., London
WEDD Wholesale Florists Ltd., Doncaster
*Deliveries could be subject to delays due to Covid.
International digital assets
For countries other than the four core markets, campaign material is available for stakeholders to download in Danish, Italian, Polish, Russian, Spanish and Swedish through the marketing portal. This will enable everyone to participate in this campaign through their own channels and boost the message 'Fill the distance with beauty'. 
If you interested in these assets, please email: info@bloemenbureauholland.nl.
Want to find out more?
​If you would like to find out more about this campaign, please contact Chanel de Kock, country manager United Kingdom on c.de.kock@flowercouncil.co.uk, Simone Dussine, country manager The Netherlands on s.dussine@bloemenbureauholland.nl or send an e-mail to info@bloemenbureauholland.nl.