First shopper activation at Hoogvliet
24 November 2022
Free pot with orchid purchase
Supermarket chain Hoogvliet launched its first shopper activation in conjunction with The Flower Council of Holland last November. Every customer who purchased an orchid from 9 to 15 November received a free pot. This shopper activation forms part of the Thanks Plants campaign. Hoogvliet cooperated closely with So Natural, Orchidee Nederland and The Flower Council of Holland on this campaign.
Afbeelding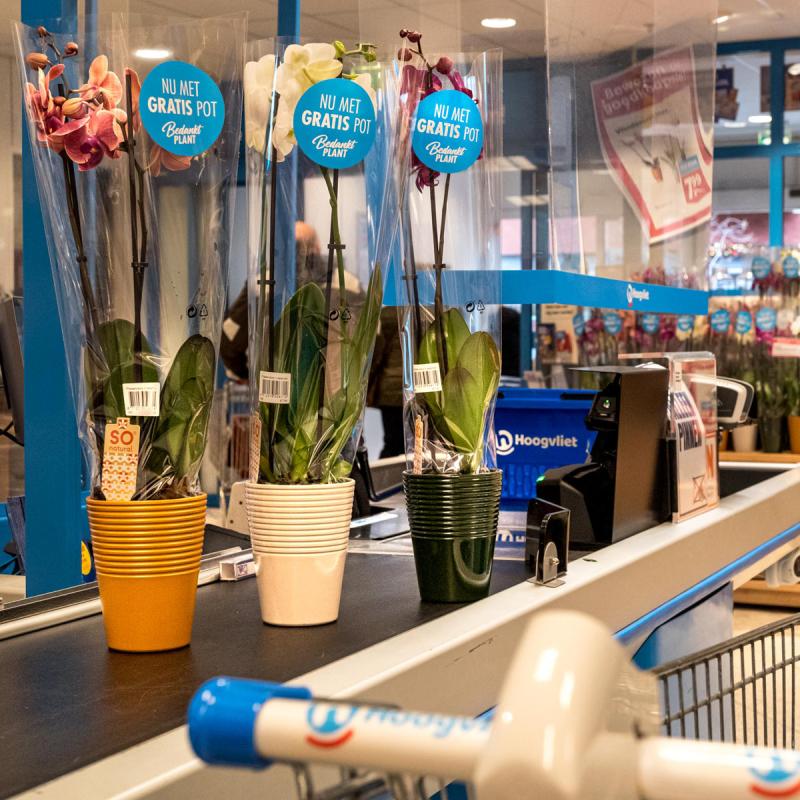 Ample attention was devoted to the campaign, which featured prominently on digital screens, posters and shelf cards and in the brochure at all participating Hoogvliet stores. Hoogvliet's own website, newsletter and social media channels were also used, of course. In addition, consumers were inspired to buy an orchid through the various mooiwatplantendoen.nl channels.
Hoogvliet also provided inspiration through its Hoogvliet Hacks on TikTok, with short videos featuring tips on Hoogvliet products, some of which have achieved high numbers of views. The shopper activation in November included a special hack on the best ways to care for an orchid.
Further information
Keen to find out more about this shopper activation or to organise one with us? Feel free to get in touch with our Country Manager Chanel de Kock via cdekock@flowercouncil.co.uk. Or contact Ivo van Orden, Activation Team Manager, by sending an e-mail to ivanorden@bloemenbureauholland.nl.
                     
November 2022