Orchid, anthurium and bromeliad activations at Kaufland
11 October 2023
Three promotions in three weeks 
Afbeelding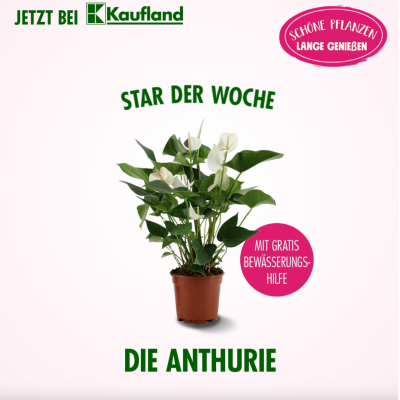 During three weeks in October, customers of Kaufland supermarkets in Germany will be offered three different plants as well as an attractive extra. The orchid, anthurium and bromeliad are being spotlighted back-to-back in the 800 shops of the national supermarket chain. The promotion, which carries the motto 'Schöne Pflanzen, lange Geniessen', is a collaboration between Anthurium.info, Bromelia Specialist, Orchidee Nederland, DRC Plant, Kaufland and the Flower Council of Holland. 
As is often the case with shopper activations, consumers are given more incentive by adding a valuable extra to the product. From 11 to 15 October, consumers will receive a free pot when they buy an orchid. The week after that, they will receive a free plant watering system when they buy an anthurium. And during the week of 25 to 29 October, bromeliad buyers can donate to a rainforest conservation project. 
Three product groups, one theme
Although there have been partnership promotions with Kaufland in the past, this is the first time that three different product groups are being offered under a single theme during three consecutive weeks. Whether consumers choose an orchid, anthurium or bromeliad, one thing is for certain - they are choosing 'beautiful plants and long-lasting enjoyment'. 
More information
Want to find out more about our shopper activations and how your business can benefit? Contact Floris Wiebosch, shopper marketer, at fwiebosch@bloemenbureauholland.nl or 06 53 81 71 33.