Thanks Plants campaign celebrates plants in the home office
31 August 2021
For the fourth year running the key message remains: you always feel better with plants around you
Afbeelding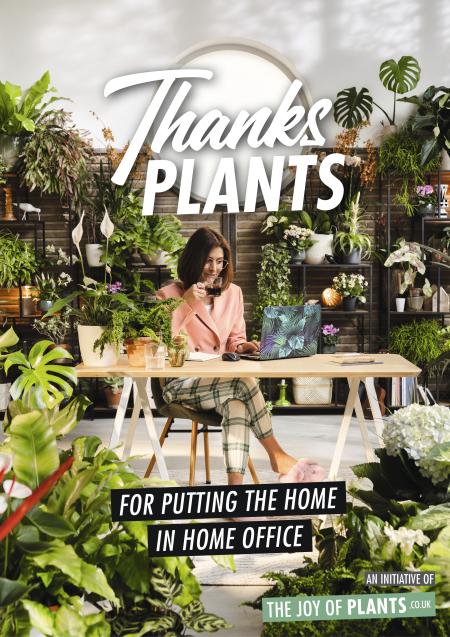 The long-running 'Thanks Plants' consumer campaign will start in the autumn of 2021. This successful campaign, which is an eye-catching celebration of plants, will particularly focus on the (home) office space this year. Because here plants also make you more energetic, more relaxed, happier and healthier.  
Working from home and plants
"Thanks plants, for making my house a home, for reconnecting me with nature, and for helping me to relax." It remains topical, and we will continue to  say it: you feel better with plants around you. This certainly also applies to the (home) office, the hot topic for 2021. Plants can aid concentration and creativity, and bring calm to your workspace, that's what we're particularly thanking plants for this year. 
This major consumer campaign around houseplants is very suitable for use by trade channels and sales outlets in their own social media channels or on the shop floor. We would therefore encourage you to join in and make use of the campaign materials, that can be downloaded below.
Campaign in the core countries
The campaign will start in the Netherlands, Germany and the United Kingdom on 20 September 2021, and in France on 4 October. Just as in 2020, the emphasis will be on digital media. In all four core countries the target group will be targeted through national publicity, on social media - YouTube, Facebook, Instagram and Pinterest - and on the street through digital out-of-home advertising (excluding UK).
The out-of-home advertising in Germany will be seen in shopping areas and railway stations in Berlin, Hamburg, Munich, Cologne, Frankfurt, Stuttgart and Düsseldorf. In France the campaign will be shown on out-of-home advertising screens in more than one hundred big and medium-sized cities and suburbs, from Angers through Chartres, Lille, Lyon, Marseille and Toulouse to Bordeaux. In the Netherlands, just like in Germany, you will encounter the out-of-home advertising in shopping areas and at railway stations in Amsterdam, Rotterdam, The Hague, Utrecht, Eindhoven, Amersfoort, Breda, Leiden, Hilversum, Almere, Maastricht, Nijmegen, Hoofddorp, Enschede, Leeuwarden, Helmond, Emmen, Nieuwegein, Hoorn, Rijswijk, Veenendaal and Heerlen.  
The other supporting pillars of this campaign are PR activities, influencer collaborations and content on our consumer website Thejoyofplants.co.uk and its sister channels in Germany, France and the Netherlands. Thanks Plants is ideal for shopper activations.
PR activities
Whether it's one special plant or a whole 'office jungle', you work better with plants around you. That is reflected in the PR activities around Thanks Plants, which are particularly aimed at the editorial teams of consumer publications. 
PR in the Netherlands: the Career Plant 
The editorial teams of publications such as vtwonen, Jan, Libelle, Volkskrant Magazine, Metro and Telegraaf Werk will be visited with a bus and invited for a short coaching session during which they will discover which plant matches their goal best: do you need more creativity, more focus or extra motivation? There's a personal 'Career Plant' to match each of these requirements. It reminds you of the work goals you have set, and instantly improves the workspace. A digital press file will provide background information about the benefits that plants in your workspace can bring.
 
PR in Germany: zooming in on the green workspace
The PR approach has three elements in Germany. In mid-August consumer media editorial teams will receive news flashes with green workspace tips, such as suggestions for attractive Zoom backgrounds with plants. We will also explain how plants stimulate creativity and productivity in your (home) workspace, and which five plants have a cooling effect on hot WFH days. With a live experiment we will enable the editorial teams of lifestyle magazines to experience for themselves what plants in your workspace can do for you. We will work with them to choose a number of plants to bring greenery to their own workspace. This is an invitation to share their experiences with their readers. 
Finally we are carrying out a survey amongst German homeworkers about their relationship with plants. We will extract interesting information from this to share with the press in September during the campaign period. 
 
PR in France: le Bureau Merci les Plantes
Alongside the usual press releases, journalists alongside influencers and randomly selected working members of the public will be invited to work amongst plants. That will take place in a co-working space that will be transformed into an office jungle to offer lots of work satisfaction: "Bureau Merci les Plantes". A national survey will reveal more about what the French think about having plants around them, wherever they go but particularly also in the home and especially in the workspace. The survey - to be carried out in September by the Opinionway research agency - will be representative of the entire population, making the information particularly interesting for journalists. 
 
PR in the United Kingdom: the Houseplant Hideout
Last year's PR event in the United Kingdom was cancelled at the last minute due to Covid-19. Luckily all the investment and preparation will not go to waste, because we are digging out and polishing the plan again for this year. We will be placing a remarkable installation in the concrete jungle near Boxpark in east London where press and consumers can immerse themselves in a world of plants and experience the effects plants can have on your well-being. Here too we will make a link with working from home. We are collaborating on the installation with award-winning designer DaeWha Kang and Botanist James Wong. Last year the timeslots for visiting the Houseplant Hideout had 'sold out' within a couple of hours. We once again have high expectations around attendance, media coverage and videos on social media.
Influencers and activations
Influencers are an interesting and important way of communicating with the public. We always seek a combination of influencers with a big following and influencers with a big impact. For this campaign we are working with five influencers in each of the four core countries who will feature Thanks Plants and plants in their home workspace on their social media.
The Thanks Plants theme is also a very useful theme for shopper activations. A number of activations are therefore scheduled again this year, like the shopper activation around orchids at the Dutch supermarket chain Jumbo, which took place at the end of August.
Are you joining in?
To join in with this major consumer campaign you can make use of the campaign materials, which can be downloaded here: 
The posters are also available in Dutch, German, French and six other languages via the Marketing Portal or at request.
Further information
For more information about this campaign please contact UK Country Manager Chanel de Kock (cdekock@flowercouncil.co.uk) or Houseplants Campaign Manager Monique Kemperman (mkemperman@bloemenbureauholland.nl).

                
August 2021