The Aesthetic Explorer
14 January 2021
Meet the most important target group for our consumer brands Funnyhowflowersdothat.co.uk and Thejoyofplants.co.uk.
In order to ensure that flowers and plants are constantly top of mind with consumers, we develop effective marketing campaigns for the floriculture sector starring with our products in the leading role. In the UK this includes the platforms of Funnyhowflowersdothat.co.uk and Thejoyofplants.co.uk. Our most important target group established is the Aesthetic Explorer. Detailed market research helps us to target this group and have an impact on them with eye-catching campaigns. By focusing on one specific target group we create an identifiable, cost-efficient and effective marketing strategy.
Who is the Aesthetic Explorer?​
Based on the segmentation research - which you can read more about below - we opted to focus our campaigns on the marketing target group 'Aesthetic Explorer'. They are: Creative culture lovers who value exploration and innovation, and enjoy decorating their homes with design pieces, flowers and plants.
Afbeelding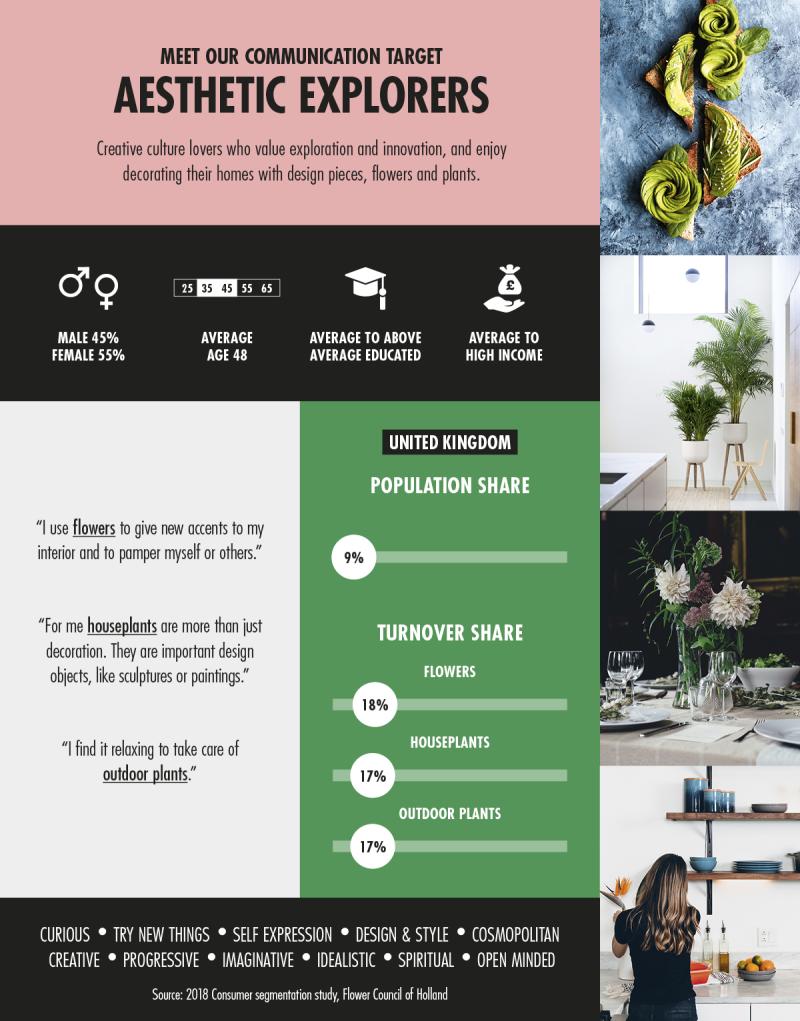 Although this group 'only' accounts for 9% of the UK population, they are responsible for 17% of the purchases in that market. It is therefore a relatively small group, but substantial in absolute terms. Furthermore, sales growth is also possible in this segment, and we also know that other consumer target groups are influenced by the Aesthetic Explorers. With this target group in mind we are developing appealing marketing strategies, campaigns and promotions that keep flowers and plants top of mind and optimally stimulate the intention to buy.
Segmentation research​
Knowledge is power. We define target groups such as the Aesthetic Explorer through segmentation research amongst consumers. This research links consumers' values - i.e. their attitudes to life - to their perception of flowers and plants. This enables us to establish very effectively how consumers experience flowers and plants and what influences their buying behaviour. In conjunction with Royal FloraHolland and VGB (The Dutch Association of Wholesalers in Floricultural Products) we commissioned research agency Glocalities to carry out segmentation research specifically for the floriculture sector. The segments are divided according to clusters of people who share basic values and have a shared attitude to life. That is of interest, because basic values also determine behaviour and opinions. By specifically drawing on this in campaigns you can make the product category (cut flowers, houseplants, outdoor plants) very visible and relevant within this group. 
Afbeelding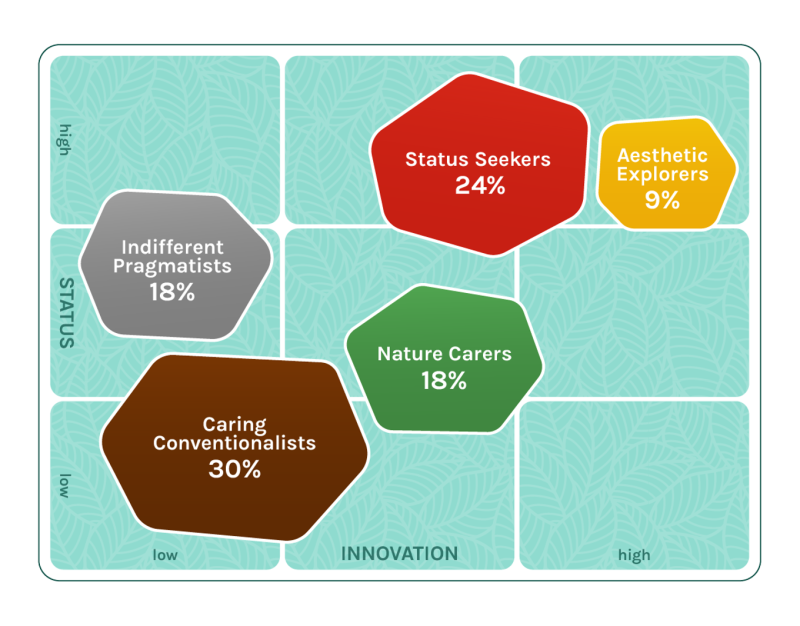 Segmentation tool
This research has been made possible by Dutch organisations. VGB and Royal FloraHolland are making a result of the segmentation research available to their members with an
interactive tool
. If you are a grower who is interested in the tool and you are member of Royal FloraHolland, you can request access through Royal FloraHolland. Wholesalers who are members of the VGB can obtain access through the VGB secretariat. If you are not a member, please contact your Dutch supplier. The Flower Council of Holland cannot provide access to the tool.   
More information
For more information about the research and the associated interactive tool please contact your Dutch supplier. If you would like to know more about the marketing target group 'Aesthetic Explorer', please e-mail mkemperman@bloemenbureauholland.nl.